In this post, I will show you how to install Nova TV APK on Firestick & Android TV to watch an extensive range of on-demand content including movies and TV Series.
The installation process is very straightforward and applies to all devices running Fire OS as their operating system including Firestick, Firestick 4k Max, Firestick Lite, Fire cube and more
These instructions also apply to Android and Android TV devices including mobiles, tablets, Android Boxes, and smart TVs with Android TV.
So, if you are an avid streamer looking for a way to watch your favorite movies and TV Shows on Android devices, then you should try out Nova TV APK.
What is Nova TV APK?
Nova TV APK is an Android application that lets you watch an extensive catalog of on demand content including movies, TV Shows, anime, documentaries and more
Similar to most movie streaming APKs, Nova TV doesn't host any content on its own servers. Instead, the app scraps the web and brings high-quality streaming links from the most popular hosting websites including torrent sites.
Nova TV APK features a very easy to navigate and clutter-free interface. The home screen displays the most popular movies and TV Shows of the moment. The top bar menu lets you explore more content categories and genres. The settings menu allows you to customise your experience on the app to your liking
The best news is that the app is available for download and install on a wide range of devices such as Android mobile and Tablets, Android TV Boxes, Fire TV devices and even on a windows PC via an emulator.
Nova TV app provides high-quality streaming links both free and premium as the app supports the integration of external premium services like Real-Debrid, All-Debrid, premiumize, and Trakt.
Integrating a premium service will get you loads of high-quality links including torrent links without any buffering issues
Note that this is a free app that requires no subscription or a premium plan to access its content. All you have to manage is a smooth internet connection and get Nova TV APK installed on your device, which I will show you in detail in the coming sections
Is Nova TV safe and legal?
In terms of safety, Nova TV has been tested and proves to be malware-free. Besides, we have never come across any user reporting any safety issues while using this app.
As for the legality, Nova TV offers copyrighted content which may expose you to some legal troubles for streaming content without the appropriate permissions.
Therefore, you should exercise caution when using this type of application and consider using a VPN before streaming anything on your FireStick to protect your online streaming activities and avoid copyright infringement issues.
With a good VPN you will prevent yourself from malware. It masks your original IP and assigns you a new one to maintain anonymity while streaming. Our best recommendations are :
Install Nova TV APK on Firestick / Fire TV
Installing Nova TV APK on Firestick / Fire TV would definitely expand the potential of this amazing streaming device.
To be able to use Nova TV APK on a jailbroken Firestick, we should rely on the sideloading method. This means that Nova TV is not available in the Amazon App Store, and the installation process requires the APK file of the app.
There are several ways to sideload third-party apps on Firestick. The Downloader App method is the most straightforward. This is the one we are using for this guide which will be carried out in three steps:
Install Downloader App
Enable unknown sources
Sideloading Nova TV
Install Downloader App
From your Firestick the Home screen, press on FIND then Search
After clicking on the search box, an on-screen keyboard will appear. Search for the "Downloader app"
Select Downloader app from appeared search results
Wait for the app to finish installing
Once the app installed, click Open to launch Downloader
A prompt will come up asking you to allow downloader to access your device. Click on Allow.
If there is any new update for the downloader app, it will prompt you, so click OK.
Enable unknown sources
Before using Downloader App to install APKs, you need first to allow it to install from unknown sources. Follow these steps:
From the Home screen open the Settings option ( Gear icon )
Scroll down and select My Fire TV Click on it.
Select Developer options.
If Developer options doesn't appear on this menu, this is how to activate it
Then click Install unknown apps
If you are using an older version, find "Apps from Unknown sources" and turn it ON to enable it.
Find the Downloader App from the list and turn it ON.
Install Nova TV APK on Firestick
Having met the above requirements, you Firestick is now ready to install any APK from outside the official App Store.
Go back to the home screen and launch Downloader App
Use the URL box and type this exact link:
The Download will start immediately. You will have to wait till it finish downloading.
After downloading, click on the Install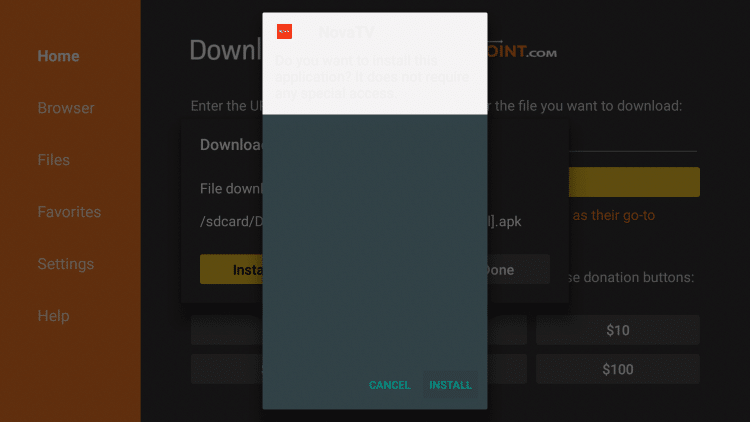 Once finished installing, click on Done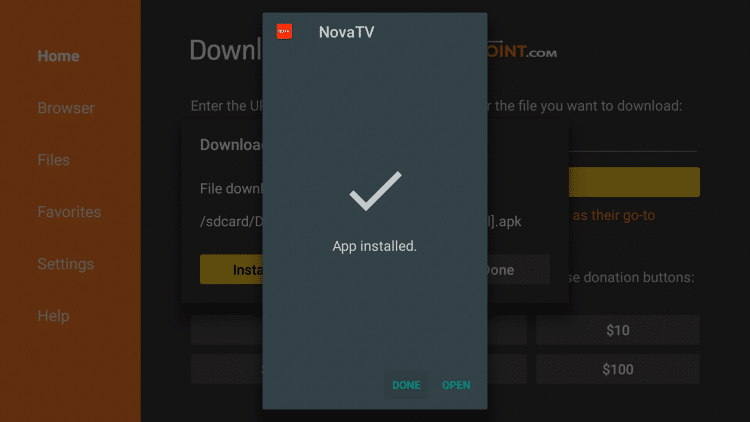 Then click on Delete to remove the APK file from your device to free up some space.
Click on Delete again to confirm your action
To see your newly installed app, go back to your Home Screen and select Your Apps & Channels. Click on See All, scroll down till you find Nova TV icon and move it up to the top for easy access.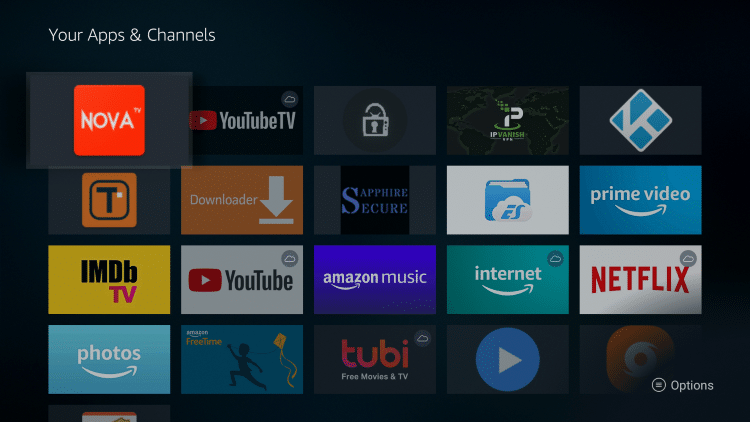 Install Nova TV APK on Android TV
This guide accompanied by screenshots will show how to install Nova TV APK on an Android TV device. The process can apply to all devices sharing the same Android TV OS.
The process will take three steps:
First, we will install Downloader app from play store
Second, we will enable installation from unknown sources for downloader app
Finally, we will find, download and install the apk file
If the first two steps are already done for you, then skip directly to the third one
For this guide, we are going to go through the Downloader app method to directly sideload  Nova TV APK file to you Android TV device, but you can download the APK on your mobile then transfer it to your Android TV to be installed.
Install Downloader app
The first thing you need to do is to install the Downloader app, a powerful browser and file manager specifically designed for android TV based devices, and this is the element that interests us the most, since we will use it to download any apk on the net.
Say that the Downloader app is available in the official play store , so you can download it directly to your device.
Open Play Store, search Downloader >> Install >> Open
Once launched, it will ask you to grant permission to access local storage. Since this is a file manager, it will need that permission to function. Just press Allow
If there is any new update for the downloader app, it will prompt you, so click OK.
That's it, your browser is now ready to use. just go to the search box, type an address or query to start surfing the net. And this is exactly how we are going to find and install apks on Android TV.
Enable Installation from unknown sources
The most interesting apps for Android TV are found in third-party sources. So, the first thing you have to do is enable installation from unknown sources . If not already done, just follow these steps:
Launch your Android TV device and click on the "System Settings" Icon.
Select Device Preferences
Go to Security and restrictions
Enter Unknown sources option
Allow Downloader app to install from unknown sources
Install Nova TV on Android TV
After having enabled installation from unknown sources, your device can now install any app you want from outside the official Play Store.
Once downloader app is ready to use, all you have to do is click on the Browser option and use the web browser to download any application in APK format.
To install MocaFilm HD apk, follow the steps below:
Launch Downloader app and in the search box and type the download link:
…. then press GO
Download should start immediately
Once the file downloaded, Press Install
Now click Done to go back to the previous screen
Delete the installation package
Again press Delete to confirm your action
That's it, Nova TV APK is installed and ready to use.
Go back to home screen, in the app drawer, find and open your app normally.
If you've gone through all the steps and can't see the APK app installed on your Android TV, you'll need to download and install a launcher . Sometimes there are applications that are not displayed on the main screen of the device or Smart TV with Android TV, don't worry, it is totally normal.
Fortunately, the solution to this problem is extremely simple. The only thing you have to do is install an app like Sideload Launcher to see the sideloaded apps.
With the launcher downloaded, installed and started, you will be able to find that app that you have installed and that was not previously displayed on the main screen. Of course, you will have to get used to using this new interface, because this launcher changes the entire aspect of the interface of your Android TV.
Apart from the Sideload Launcher, you can also try many other alternatives from our list of the best Android TV Launchers then choose the one that best suits you.
How to install Nova TV APK on Android mobiles?
Nova TV APK is not available in the Play Store or Amazon app store. To install the Nova TV App you need to use the APK file of the app.
We have explained to you the steps to download and install Nova TV on your device using the APK file. Follow every step without skipping to install the app without any errors.
First, you need to download the APK file from the below-given link. Make sure you have the necessary storage space in your device before download/installation.
To install an app using the APK file you need to enable the "Unknown sources" option. Go to Settings -> Security -> Device and Management -> Unknown Sources. Turn ON this option to let the device allow you to install the app.
Now open the Downloads folder and find the location of the downloaded APK file.
Click on the APK file and the app will proceed to install. During installation, the app will request permissions to access Media files and file storage.
Grant them access and the installation will be complete.
You can now launch the app from the home screen of the device.
Note: If you get an error called "Blocked by play protect" then you can just click on install anyway to proceed with the installation
How to install Nova TV APK on Windows PC?
To install Nova TV APK on Windows PC using BlueStacks emulator, you need to follow these steps:
Download and install BlueStacks emulator from this link: https://www.bluestacks.com/
Open BlueStacks emulator and sign in with your Google account.
Download the Nova TV APK file from this link:  https://simturax.com/novatv
Drag the APK file to the BlueStacks emulator window to install it automatically.
Launch Nova TV from the application library or the BlueStacks emulator home screen.
Nova TV APK review
Nova TV APK has a huge collection of Movies that you can easily navigate, stream and download very high quality without any buffering issues and simple interface.
Nova TV gives you the chance to choose an external player like VLC or MX Player as it offers you the option to play the hosted content by means of the already built-in ExoPlayer. For such purpose, you simply have to select it as the default player.
With the guide above, you can install any apk in just a few minutes. You can then integrate Real-debrid and Trakt.tv to enhance your streaming experience.
Final thoughts
Nova TV APK is a great video streaming app in the market with hundreds of movies, and TV shows from various genres and languages. It is currently a great alternative to Cinema HD APK, and CyberFlix TV APK. You can access the content for free. By logging on to the app, you can track the watch list as well. Download Nova TV APK on Android TV and enjoy your favorite shows and movies in HD resolution on the big screen.