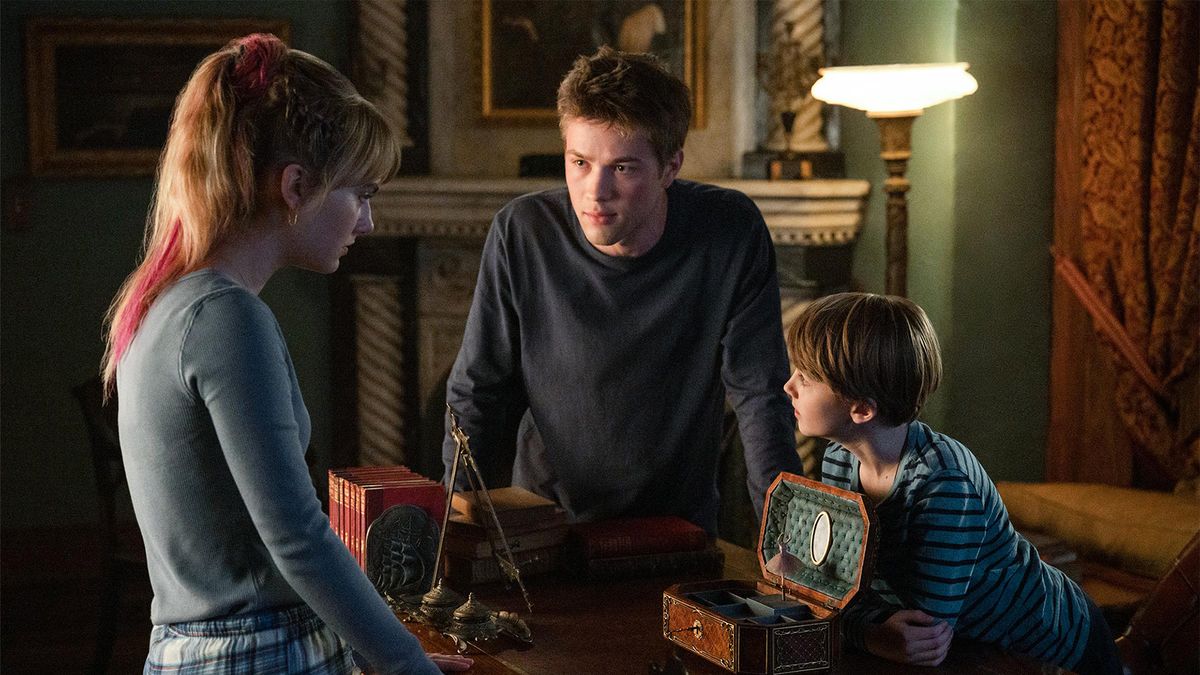 Locke and Key season 2 is not only on its way but, finally, we have confirmation on when it'll land on Netflix – and it will be later this year.
The show is inspired by the comic series by Joe Hill and Gabriel Rodríguez, and it did an excellent job of being one of the more intriguing horror series on the streamer. It didn't take long for Locke and Key season 2 to be confirmed as a result, but it's a big plus to know that it'll be coming before the year is over.
If you want to know everything about Locke and Key season 2 before it arrives, we've got you covered.
We've listed everything we know about Locke and Key season 2 below, so have a read to find out more about the cast, release date, and plenty of other bits too.
Locke and Key season 2 release date: October 2021
Locke and Key season 2 was confirmed to be in production back in September last year, thanks to a tweet from the Locke and Key Twitter account.
Now, though, we have an official launch date: Locke and Key season 2 will arrive on Netflix in October 2021.
Revealed on Day 2 of Netflix Geeked Week (Tuesday, June 8), the release date announcement was made public alongside some first-look images for season 2. Check the new official stills in the tweet below:
What secrets will the keys unlocke next? Here's your first look at Locke & Key season 2, coming in October! #GeekedWeek pic.twitter.com/CliEjIl42HJune 8, 2021
See more
While the October 2021 as a release date is still pretty vague, it's still pleasing that it'll be landing sometime this year.
There's also the fact that Darby Stanchfield posed a photo on Instagram with co-stars Connor Jessup and Jackson Robert Scott with the caption "Half of season 3 Locke'd in…" Filming started in September, so logically filming should be more or less done by now. That appears to be the case, too, what with the October 2021 launch date confirmed.
Locke and Key season 2 cast and story: what's going to happen next?
First, we can expect the main cast to return. That includes Darby Stanchfield, Connor Jessup, Emilia Jones, and Jackson Robert Scott as the Locke family, as well as Dodge, Lucas, and Gabe, played by Laysla De Oliveira, Felix Mallard, and Griffin Gluck, respectively.
But in terms of new faces, Brendan Hines (The Tick, Scorpion) joins the Locke and Key season 2 cast as Josh Bennett, a charming history teacher at Matheson Academy, one with a secret alternative agenda, Deadline reports. It's also reported that Aaron Ashmore and Hallea Jones have been promoted to season 2 regulars, with Liyou Abere (Mrs. America) rumored to guest star. Ashmore is allegedly Duncan Locke, a family member with a past relating to the keys who helps the Lockes against Dodge, with Jones as a demon, and former mean high school girl.
The story is set to pick up exactly where the end of the first season left off. The Locke's have been outsmarted by the demon as Dodge, Lucas, and Gabe. Not only must the Locke family deal with the fact that they've been tricked by the demon into throwing Ellie (Sherrie Saum) into the void beyond the Omega Door, it seems like Eden (Hallea Jones) may be struck down and now controlled by the demon, too.
more keys, more demons, more aloha 🖕Locke & Key is officially returning for season two!! pic.twitter.com/OYfHBKmik8March 30, 2020
See more
Elsewhere, expect a lot more doors, keys, and demons (as mentioned in the tweet above), but there's plenty of story information still to emerge. We do know, however, that when it comes to adapting stories from the comics, Hill and Rodríguez aren't shy about making changes. "It has to work as a TV show," Hill said to Entertainment Weekly in response to questions over Sam Lesser's reduced involvement and the mixing of two major keys in season 1.
"It has to succeed in the possibilities and limitations of its own particular form," Hill continued. While "we [Hill and Rodríguez] worked on the comic, we were always eager to make it successful as a comic," Hill said that it was the job of the cast and crew on the show "to make something that would succeed on its own terms as a TV show."
Locke and Key season 2 could blend the comics and original stories
Locke and Key season 2 will apparently feature some original stories, but there's still plenty of material to adapt from the comics in years to come. "There definitely are stories left in the comics that we want to hold onto, to use in future seasons," Cuse said in that same Collider interview. "So, it still remains a bit of a remix, of pulling from stories from the comic and our own original stories."