Looking for the best TV to buy this year? Look no further than this guide, which has the latest and greatest smart TVs you should be considering for your next screen, from QLED and OLED TVs to new Mini LED contenders. (Looking for a cheap buy? Jump straight to our pick of cheap TVs below.)
The best TVs are marvels to behold, and choosing the right one will be the difference between a fuzzy, off-color movie and the capabilities to make those 4K Blu-rays or Netflix movies truly shine.
We're not far into 2021 at this point, but the best TV winners from last year are still on sale and well worth the investment, packing in 4K resolution, colorful HDR, and the all-round feature set to make for truly impressive sets. They're largely cheaper than they were at launch too, and could be good buys ahead of the higher RRPs of their 2021 successors.
The best TVs these days should be good bets for next-gen gaming consoles like the PS5 and Xbox Series X too, with HDMI 2.1 support and VRR becoming the norm on higher-end sets.
Our picks below represent the absolute pinnacle of what's possible in smart TVs today – but we've also highlighted a number of smart TVs that provide incredible value for your money, too. Combined, you've got a list of the best TVs at any budget.
That said, we're always adding more screens to this list as the year progresses, so be sure to check back in a month or two to see the latest additions to this best TV hall of fame.
Just want to watch a video instead? You can catch us discussing our best TV picks for 2021 below:
Best TV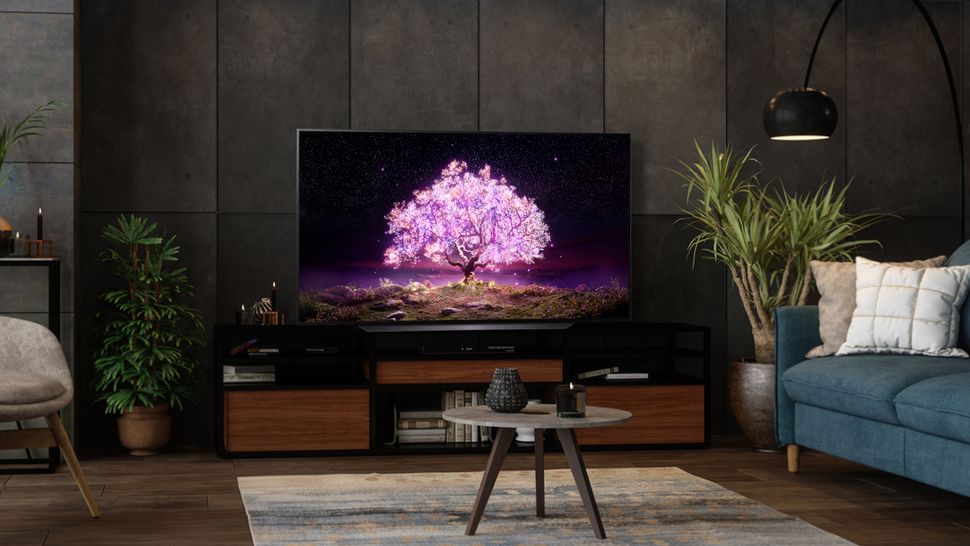 If you only remember one TV from this list, make it the LG C1 OLED. As a follow up to our best TV of 2020, the LG CX OLED, we had high expectations for the C1 OLED were immense – and yet, it has managed to deliver on all of them.
That's because LG has made a number of small tweaks to last year's model. It's now using LG's Alpha a9 Gen. 4 processor for better upscaling and virtual surround sound audio, and with four separate HDMI 2.1 ports, it's ready for the PS5, Xbox Series X, Xbox Series S, and whatever next-gen consoles can throw at it. Gamers will also appreciate the new Game Optimiser menu that gives you the option to quickly adjust brightness, contrast and VRR on the fly.
The LG C1 isn't flawless, as we did encounter issues around how the new Alpha a9 Gen. 4 upscales faces, and how reflective the all-glass screen is in the daylight, but the issues are few and far between.
There are, of course, higher resolution TVs out there right now like the LG Z1 OLED, which offers 8K resolution, and the new LG G1 Gallery Series that uses the coveted OLED evo panels that offer better brightness. However, we feel that the LG C1 OLED offers the best blend of price and performance and should be high up on your list for potential TVs to buy in 2021 and beyond.
Read the full review: LG C1 OLED
When it goes on sale in May, the Samsung QN900A Neo QLED 8K TV will usher in a new era of television technology. Samsung's Mini LED-sporting QN900A Neo QLED 8K TV offers stunning picture quality, exceptional color and brightness, terrific sound and outstanding blacks – all in a package that's unmatched in terms of design.
For the uninitiated, Samsung's 'Quantum' Mini LEDs are 1/40th the thickness of a regular LED, meaning thousands of smaller LEDs can be packed together in a much tighter fashion, allowing for far more accurate dimming zones and black levels that are practically indistinguishable from an OLED.
As the LEDs are far smaller, they're able to achieve far more precision and less blooming, so the act of seeing bright areas of the screen unnaturally bleed over into darker spots should be greatly reduced or not evident at all.
And because it takes advantage of Samsung's Multi-Intelligence AI upscaling, the QN900A is consistently able to produce images that looked better than their source.
Not only does the Samsung QN900A Neo QLED 8K TV offer the latest HDMI 2.1 and eARC features, it's also ideal for gamers who've recently invested in a next-gen console or beastly gaming PC thanks to support for 4K/120fps or 8K/60fps gameplay via HDMI 2.1, Game Motion Plus and AMD FreeSync Premium Pro.
It's the flagship 8K TV to beat in 2021.
Read the full review: Samsung QN900A Neo QLED 8K TV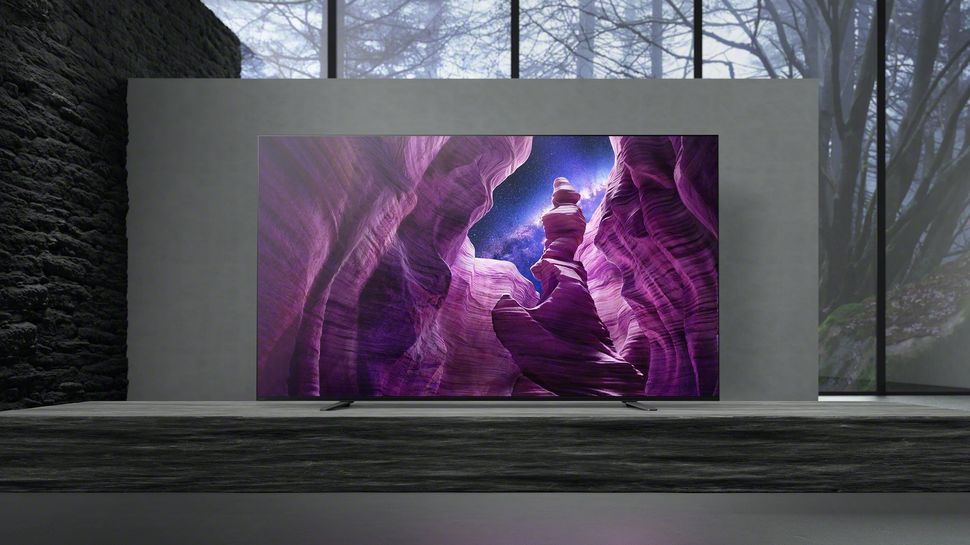 By combining Sony's premium OLED picture performance with a powerful and direct sound system, the Sony A8H OLED TV manages to be a stunningly compelling TV option for serious home cinema fans.
It carries Sony's top-line X1 Ultimate processor, Sony's Pixel Contrast Booster (for more intense image highlights), and a new OLED version of the X-Motion Clarity feature Sony initially developed for its FALD LCD smart TVs.
On the audio side, meanwhile, Sony's customary Acoustic Surface Audio system (where the TV's screen is actually 'excited' into producing sound) is joined by a two-subwoofer bass system, and an Acoustic Auto Calibration system that can optimize the TV's sound to your room with just a couple of quick test pulses.
The results are nothing short of gorgeous. While this set could be beaten by a Sony A80J successor, it's currently the best TV to buy in the Sony range.
Read the full review: Sony A8H OLED TV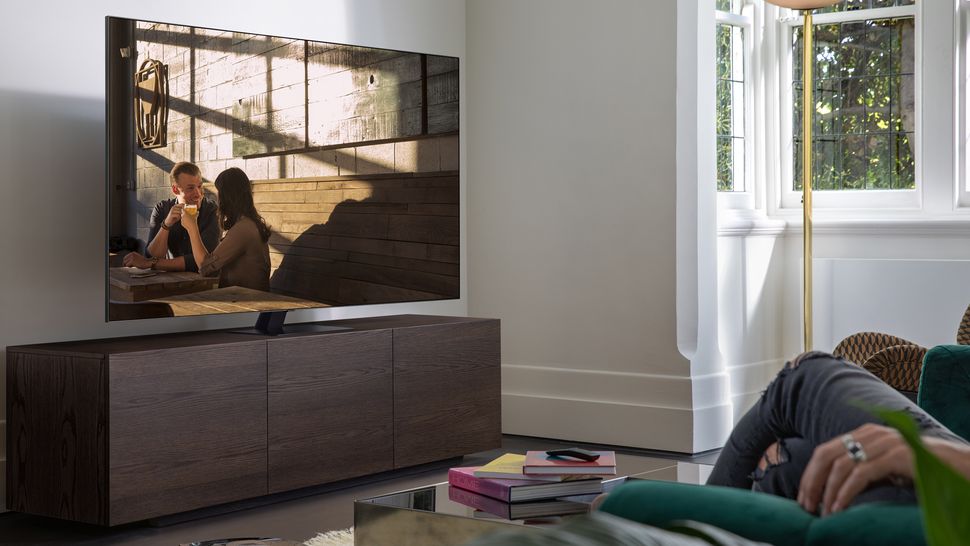 The Samsung Q80T builds on the successes of previous QLED models for a brilliant HDR TV definitely worth checking out.
The most notable feature is the incredibly low input lag, making the Q80T a great smart TV for gamers who want responsive gameplay, but the QLED screen will also make general watching a pleasure all around.
The Q80T is the cheapest new Samsung TV to come with a full-array backlight, meaning you'll get consistent brightness, though not some of the premium qualities of higher-end sets – hence why it lands lower on this list than last year's Q90 QLED. It also isn't quite as stylish as the zero-bezel Q950TS, with a thick body compared to other QLEDs in last year's range.
However, you'll still get Samsung's latest Quantum 4K processor, vivid HDR colors, and advanced features through the Tizen OS.
If you want more of a saving, too, the Q70R QLED is this smart TV's predecessor, and will cost you a good few hundred dollars less than the new Q80T model (yes, it's the some product line, and yes, the naming is confusing).
Read the full review: Samsung Q80T QLED TV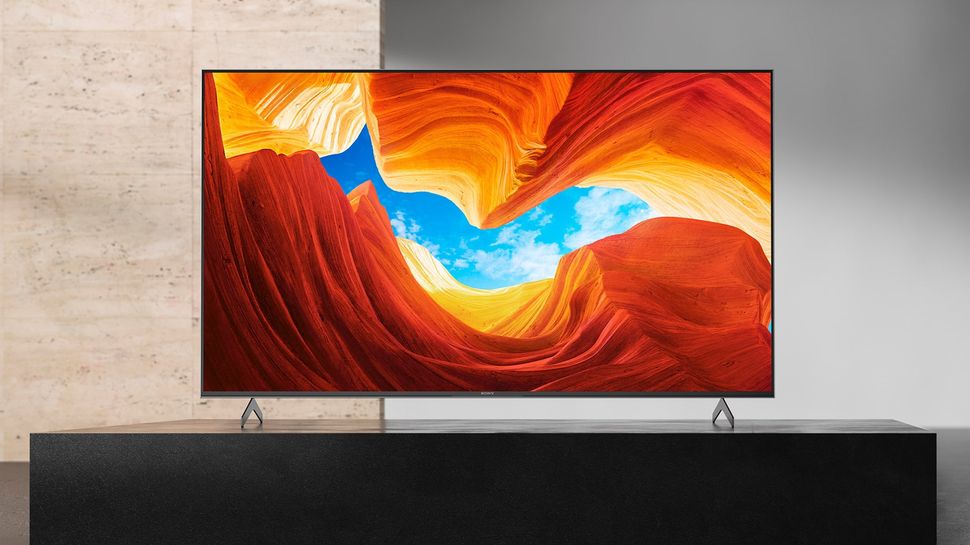 Sony's X900H Series does everything it sets out to do as a smart TV, and in some style. Its picture quality is quite startling in the right circumstances, its sound is more than adequate by prevailing standards, it's simple to use and it doesn't turn its nose up at content of inferior resolution.
The panel itself is a VA-type LCD, which in broad terms has to be considered an upgrade on the IPS edge-lit panel Sony deployed on last year's equivalent model. The higher brightness, greater color volume and improved screen uniformity promised by a full array VA panel ought to more than make up for the rather more restricted viewing angle when compared to IPS. It's noting, too, the X900H doesn't feature the X-Wide viewing angle technology Sony's flagship X950H range is toting.
It did, however, get an HDMI 2.1 firmware update to bring 4K/120Hz passthrough, so it could be a good step-down gaming TV for those without the cash for the model above.
In short, there's more than enough going on here to make you overlook the lack of HDR10+ and forgive Android TV its overconfidence. If you've this sort of money to spend on a smart TV of this sort of size, you absolutely have to audition it.
Read the full review: Sony X900H Series
For those who can afford it, the LG Gallery Series GX OLED is a home cinema lover's dream come true – an exemplary flatscreen smart TV that uses all the latest specs and standards, from Dolby Vision and Atmos to Google Assistant and Amazon Alexa, from Chromecast Built-in to AirPlay 2.0.
While the outside is a marvel of engineering and industrial design, inside you've got the all-new LG Alpha a9 Gen. 3 processor that adds better facial recognition and multi-step noise reduction to LG's already-great HD-to-4K upscaling and much-improved motion processing technology.
But if you're looking for pitch-perfect audio, you won't find it on the LG Gallery Series – the built-in speakers are kind of a soft spot in an otherwise great design. Due to design constraints, the TV only sports thin, low-powered speakers that just don't match the premium performance of the OLED panel.
That said, chances are if you're buying a $3,000 TV you've got a sound system at home ready to go – and outside of a few other nitpicks, this is a fantastic smart TV for anyone with the budget.
The 2021 iteration, LG's G1 Gallery OLED, could offer a significant improvement with 'OLED evo' tech that ups the brightness for a more impactful picture, but the GX was the first in the Gallery series and is still well worth picking up.
Read the full review: LG GX Gallery Series OLED
The Vizio P-Series Quantum X is a consistently impressive LED-LCD smart TV that combines the brightness of a QLED and some of the best black levels this side of an OLED.
Offering upwards of 2,000 nits of peak brightness, it lights up any home cinema and cuts through ambient lighting to become one of the best TVs for brightly lit living rooms – and thanks to a recent firmware update, it's now a great match-up for the Xbox Series X and PS5 with 4K/120hz support, auto-low latency mode and responsive 13ms lag time with 4K/60 games.
That said, it's not without its faults. TVs this bright are bound to have some blooming, which can be noticed when you've got white text on a black background, and its upscaling – while much better than previous years – still isn't at the same level of LG, Samsung or Sony TVs. SmartCast, similarly, is a lot better than it's been in past years thanks to the addition of Apple TV Plus, Disney Plus and Peacock, but it's still frustratingly slow at times.
If you truly have deep pockets and want the best image quality out there, then it's still worth going for LG's OLED or Samsung's QLED TVs. In the absence of the sufficient funds, though, the $1,599 Vizio P-Series Quantum X P75QX-H1 is clearly an excellent option for those that want quantum dot tech in one of the best TVs, at Vizio-level prices. (Maybe check out our review of the affordable Vizio OLED too.)
Read the full review: Vizio P-Series Quantum X (2021)
Best TV on a budget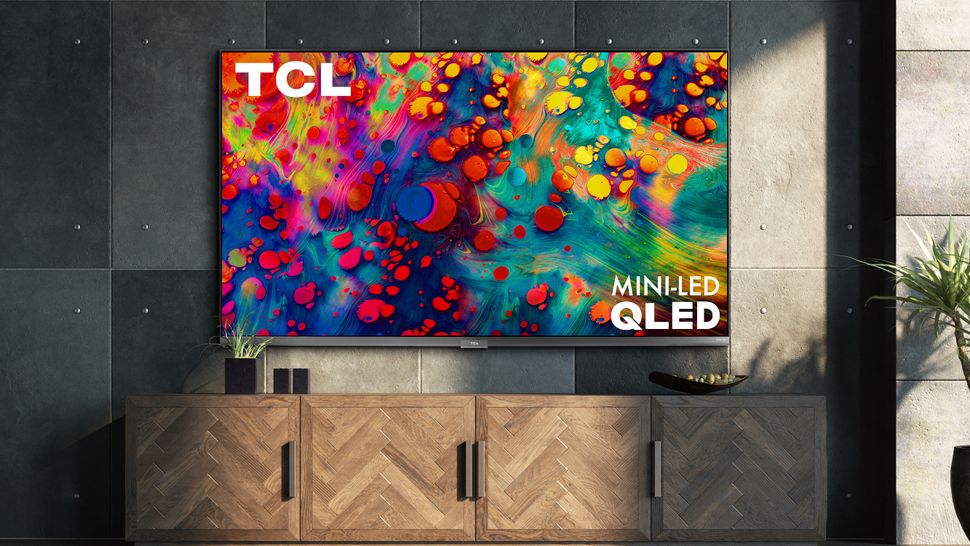 When we discovered that the TCL 6-Series 2020 QLED (R635) would use Mini LED, we were shocked. That's because, just a year prior, that same technology came to the high-end 8-Series and cost hundreds of dollars more than the ultra-affordable 6-Series.
It's not the end-all, be-all LED-LCD we were dreaming it would be due to its limited brightness and poor motion handling, but it truly is an exceptional value and one that we'd recommend to nearly everyone.
The 6-Series is brighter than before, more colorful and doesn't have a single hint of haloing or light bleed. It's designed in a new way to hide your cables and it's the first TV to come with THX Certified Game Mode for 1440p/120Hz gaming.
It's not exactly the TV we'd recommend to next-gen-ready gamers looking for a perfect companion for the Xbox Series X or PS5 that can push 4K at 120fps, but if you're buying a TV to binge Netflix, stream Hulu or, well, basically just enjoy your viewing experience, this is the best smart TV (and certainly the best TCL TV) that we'd recommend for you.
Read the full review: TCL 6-Series 2020 QLED with Mini LED (R635)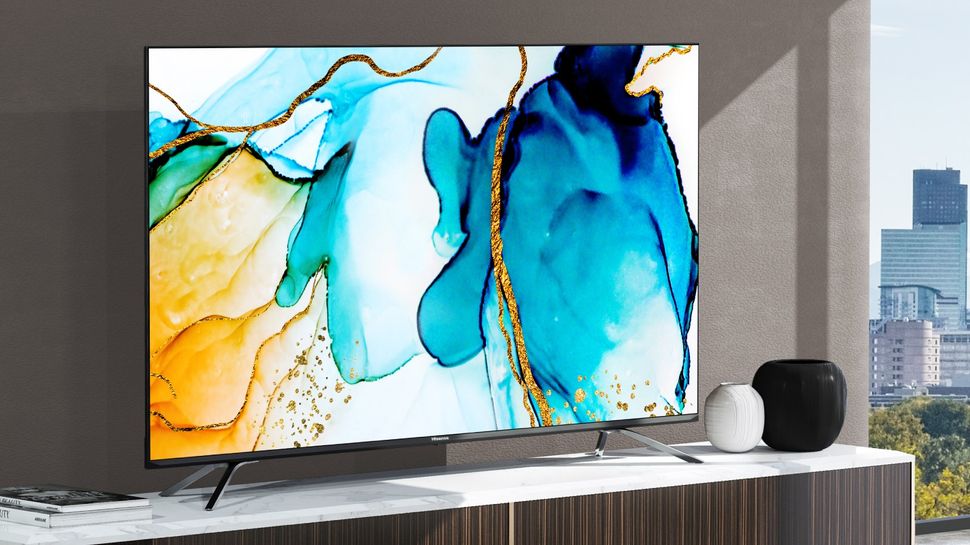 The Hisense H8G Quantum Series is a great choice for those looking to spend little and get a lot from their smart TV.
At just $700 for the 65-inch version of the Hisense H8G – after a massive price drop from its original RRP – it's outstanding value. You're not having to make do with a sub-standard set, though, as the apps are easy to find and use, Google Assistant support is well-implemented, and the technical specs rival much pricier models. Motion is brilliantly smooth, too, with great performance across HD and 4K video despite a drop in brightness compared to competing QLED models.
You won't get quite the quality experience of many others in this list, and the design of this set isn't very inspiring. For the price, though, the Hisense H8G Quantum Series certainly delivers.
Read the full review: Hisense H8G Quantum Series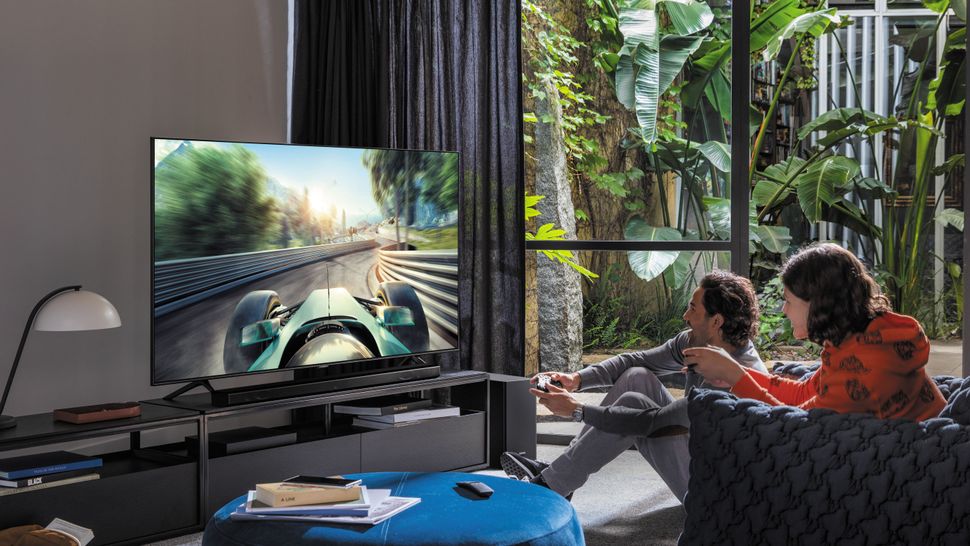 The all-new Samsung Q70T QLED TV boasts much of the feature armory found in Samsung's more expensive QLED 4K screens, but doesn't come with such a punishing price tag – making it a great buy for folks who can't reasonably spend a couple thousand on the flagship Samsung Q95T.
The reason it doesn't score higher on our list is that it's an edge-lit TV and doesn't produce the same contrast of comparable full array models, especially in light-controlled rooms like downstairs home cinemas.
Still, Samsung's Q70T is a darn good smart TV all the same. Ideal for light room viewing, it offers superb detail and color performance, has a comprehensive connected platform and boasts excellent image interpolation.
For gamers, the Q70T is a formidable proposition. Not only is image lag low, both with and without processing, there's a 4K 120fps HDMI just waiting for your next games console. It also confounds when it comes to black level performance and screen uniformity… provided you keep the lights on.
Read the full review: Samsung Q70T QLED TV
Buying advice
What TV technology is best? Which is the best LCD TV? Which screen size is best for your living room? What's the difference between LCD and LED TVs?
The answers aren't always obvious. In fact, buying a new TV can be stressful even for the tech-savvy – as there are so many brands, so many features, so many screen sizes, colors, technologies and flavors to choose from.
So which one is right for you, your family and your living space? In this guide, we'll walk you through everything you need to know about buying a new TV.
What is a smart TV?
A smart TV is essentially any television with internet capability, meaning it can load up streaming apps and services like Netflix, Hulu, and Amazon Prime Video.
Different TV manufacturers have their own proprietary smart TV platforms, though, which vary in usability, speed, quality of search, and what kind of app support is available. Some might be missing Disney Plus, for example, or have a more streamlined layout – while others might have superior voice search, for those planning on barking commands rather than clicking them.
We've taken all this into account when picking our list of the best smart TVs above, though, so you can be sure you're getting an optimum experience with your purchase.
Do I need 4K resolution?
4K resolution, at least the way most TV companies define it, is 3840 x 2160 pixels, or 2160p. To put that in perspective, a Full HD 1080p image is only 1920 x 1080. 4K screens have about 8 million pixels, which is around four times what a 1080p set can display.
You find any less than 4K resolution on this best TV guide, though you might see the odd 8K TV, which packs in 33 million pixels instead for even greater detail – usually at an even greater price.
What TV panel types are there?
There are a lot of different screen types out there, all working in different ways to produce the same results. Each technology has its own unique strengths and weaknesses so here are some basics to consider:
LED TV: Direct LED
These displays are backlit by an array of LEDs (light emitting diodes) directly behind the screen. This enables localised dimming – meaning immediately adjacent areas of brightness and darkness can be displayed more effectively – and greatly improves contrast. LED TVs are also more power efficient and capable of a wider colour gamut than CCFL sets. Because of the extreme cost of mounting these arrays of LEDs, cheaper TVs usually use Edge-Lit LED screens over Direct or Full-Array LED screens.
LED TV: Edge LED
With these TVs, LEDs of the backlight are mounted along the edges of the panel. This arrangement enables radically slender displays and offers superior contrast levels to CCFL, but can't achieve the same picture quality as directly lit LED sets. However, they do come in far cheaper which is why most LED TVs out there now use this technology.
OLED TV
The backlighting on OLED (organic light emitting diode) sets is achieved by passing an electric current through an emissive, electroluminescent film. This technique produces far better colours and higher contrast and also enables screens to be extremely thin and flexible. This is the holy grail display technology and LG, Sony, Philips and Panasonic have all adopted it in their flagship sets.
Quantum Dot
Quantum Dot is Samsung's big play in the LED TV space. With it, the brand claims that it's able to produce more colorful pictures than LG and Sony while offering even brighter panels. LG's Super UHD TVs all use a variation of Quantum Dot called Nano Cell, and Hisense makes a number of Quantum Dot TVs for the US and China.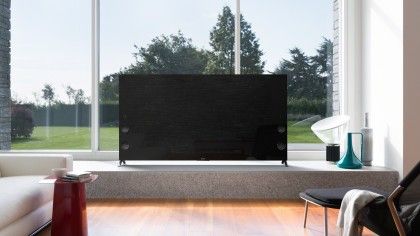 How big should the best TV be?
People tend to pick the size of their flat TV based on the amount of space they have for it, this isn't necessarily wise. Flat TVs take up much less space than you might think, so your new TV may end up a foot or two further away from your viewing position, making the picture appear smaller.
Also, with hi-def, you can have a bigger screen and the same viewing distance without worrying about seeing blemishes inherent to the source. A 4K TV's lack of noise means that the ideal distance to sit from the screen is three to four times the height of the TV.
How many HDMI sockets do you need?
For a living room TV you should be looking for a minimum of 3 HDMI inputs. If you want to attach a set-top box as well as games consoles etc, those HDMI ports will fill up fast.
Should you wall-mount one of the best TVs?
First off, you'll need to consult a construction expert to check that the wall in question is strong enough to support a flatscreen. Then find out if the set you want is designed to be wall-mounted and, if so, ask if the relevant bracket is included in the basic package or as an optional extra.
Do you need a separate sound system?
If you're not planning on connecting to a separate soundbar or surround sound system, You might want to think more carefully about your set's audio performance. Look for a screen that can go as loud as you'll need without distortion or cabinet rattle. Consider how dialogue sounds and how much low-end rumble the bass is capable of.
Conversely, it's pointless paying out more cash for exceptional built-in speakers if you already have a decent home theater system.
Other buying guides to check out