Looking for the best vlogging camera you can buy? This is a great place to start. Whether you're looking to shoot pro-quality clips for your social media audience, start a YouTube channel, or get into live-streaming, we've tested and ranked all of the best vlogging cameras in our guide below. (Searching for the best YouTube camera instead? Check out our separate guide on that).
There are a few fundamentals that all vlogging cameras should have. If you're a solo filmmaker, an articulating screen is a must because it lets you frame your shot while facing the camera. Audio is at least as important as video quality, so a microphone input is essential, while strong autofocus (with Face/Eye AF) will give you the confidence that your camera will stay locked on your subject.
In terms of video quality, these days you should not just be looking for 4K, but added options like 4K/60p mode (for creating slowed-down cut scenes) and 10-bit color depth, which will give you greater editing flexibility as your skills grow. For those who do a lot of walk-and-talk shots, in-body image stabilization (IBIS) is also a handy bonus feature, though you may still need a gimbal for completely smooth shots.
But there are also other factors that will depend on your budget and needs. Minuscule cameras like the Insta360 Go 2 are the obvious choice for quick, off-the-cuff vlogs, but they generally offer less creative control and lower video quality than a mirrorless camera with interchangeable lenses. If you're happy with the versatility of built-in zoom, something like the Sony ZV-1 represents an excellent middle ground: a premium compact with a 1-inch sensor, it shoots excellent 4K video yet still fits comfortably in your pocket.
Right now, our top pick for the title of best vlogging camera is the Fujifilm X-S10. With a flexible set of 4K video specs, as well as in-body image stabilization and a vari-angle screen, it's a fantastic all-rounder that will help you create fantastic video content – as well as superb stills, if you need them.
But that doesn't mean it's necessarily the best vlogging camera for you. The new Panasonic GH5 Mark II, for example, is the better pick if live-streaming is important to you. It's also worth waiting to see if any Prime Day deals arrive during the shopping event, which takes places on June 21-22. Established models like the Sony ZV-1 and Sony A6400 are prime candidates for price cuts, and you could use the saved cash to splash out on a lens or accessory.
Our best vlogging cameras round-up includes a whole range of recommendations from our in-depth testing – make sure to read to the end and you'll find the best choice for you.

Best vlogging cameras in 2021:
Arguably the best all-round mirrorless camera at this price point, the Fujifilm X-S10 is adept at lots of different types of shooting – including vlogging. It's not the cheapest or smallest option in this guide (the Sony ZV-1 below is a better compact option), but in terms of quality and bang-for-your-buck, it's our current top pick for video creators. Pair it with an XC15-45mm kit lens, and you have a superb vlogging setup.
Inside the X-S10 is the tried-and-tested combination of a 26.1MP X-Trans CMOS 4 sensor and X-Processor 4, which we've already seen in the Fujifilm X-T4. It shoots uncropped 4K/30p video, has in-body image stabilization (IBIS) to smooth out handheld jitters, and a vari-angle screen that flips round to face you. The X-S10 is also packed with other useful features, such as Full HD recording at 240p for a 10x slow motion effect, F-Log recording, and the option to output 4:2:2 10-bit video, too.
On top of all of that you've also got some fine retro styling and a great, comfortable grip, which makes it a great hybrid option for shooting stills, too. Considering all of the features you get, it's also available at a pretty wallet-friendly price. But be warned: its wide range of great X-series lenses may prove hard to resist.

For a long time, the Canon G7 X Mark III was our favorite compact vlogging camera, but it's just been knocked off its perch by the excellent Sony ZV-1. By combining all of the best bits of Sony's RX100 series (for example, the RX100 VII's microphone port and autofocus, plus the RX100 V's bright 24-70mm f/1.8-2.8 lens) the ZV-1 really nails what most people want from a small vlogging camera.
Sony's latest Real-time tracking and Eye AF are the best around and the ZV-1 also has a huge amount of depth for a compact camera, including a built-in ND filter and profiles like S-Log2 for those who want to embrace color grading. We still think the Olympus OM-D E-M5 Mark III's stabilization and image quality are better still, but you won't find a finer pocket vlogging camera than the Sony ZV-1.

The original Panasonic GH5 was a legendary camera thanks to its combination of class-leading 4K video specs and relatively small, affordable body with IBIS. The GH5 Mark II doesn't make big improvements to this existing formula, but it does add one particularly useful trick: wireless live streaming.
With the Panasonic GH6 already on the horizon and likely to be the true upgrade to the GH5 from a video quality standpoint, live streaming is really the focus of the GH5 Mark II – and it works well. Streaming to YouTube and Facebook is pretty simple thanks to the built-in options inside the Lumix Sync app, but you can also stream to others like Twitch thanks to its support for the standard RTMP/RTMPS protocol.
Streaming quality is limited to 1080/60p and the GH5 Mark II's autofocus still lags behind the best, but it's perfectly serviceable in most situations and the camera's other specs (in-body image stabilization, an articulating screen, plus a huge array of video shooting options) make it one of the best vlogging cameras around, particularly if you fancy dabbling with the live element.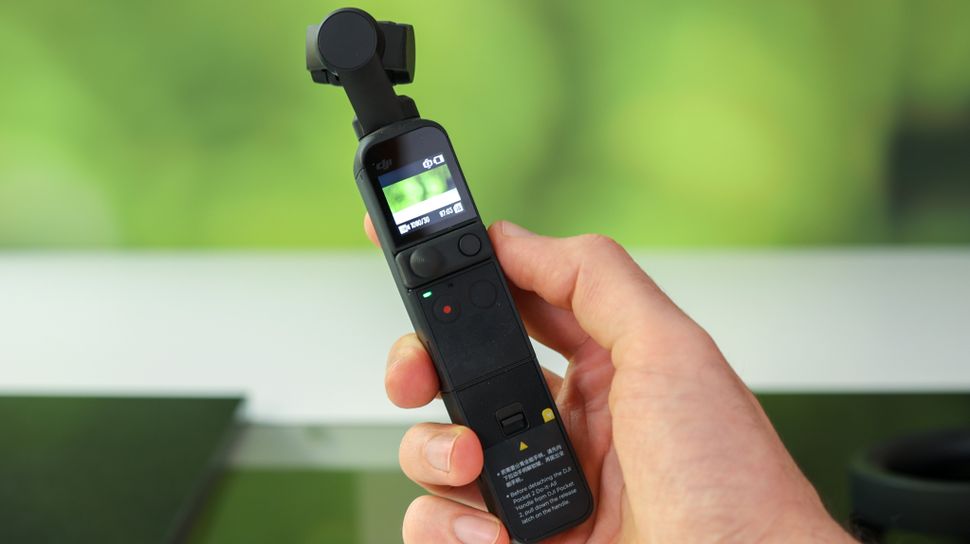 We were big fans of the original DJI Osmo Pocket, but this sequel fixes a lot of its limitations and makes it the best compact option around for solo filmmakers. The Sony ZV-1 (above) trumps it for outright video quality, but if you tend to shoot a lot of walk-and-talk style clips to camera, then the Pocket 2's combination of a three-axis gimbal and solid face-tracking could make it more appealing.
Compared to the Osmo Pocket (which remains on sale as a more affordable alternative), the DJI Pocket 2 brings a new larger sensor, a brighter lens, improved microphones and wider field of view, which means you don't have to hold it out at arm's length when talking to camera.
Plonk it down on a tripod base or surface, and it'll turn to keep you in shot as you walk around in front of it. Despite that larger sensor, the Pocket 2 still isn't the ideal camera for low light situations or high contrast scenes, but it's a very nice upgrade on using your phone in a gimbal and the improved four-mic audio setup means you get some very decent sound quality to match.

Don't be fooled by the retro shell: the Olympus OM-D E-M5 Mark III is a top-spec vlogging camera, offering the ultimate combo of solid image quality, lightweight build and a comprehensive feature set. The hand-grip could be bigger, but the polycarbonate construction shaves 50g off the weight of its metal-bodied predecessor, making it a camera you can comfortably hold all day. The 20.4MP Four Thirds sensor – shared with the pro-grade E-M1 Mark II – delivers reliable continuous tracking thanks to on-chip phase detection autofocus, while handheld footage is usually super smooth, courtesy of class-leading image stabilization.
The option to shoot Cinema 4K at 24fps and a 237Mbps bit-rate is seriously impressive, while regular 4K footage at 30fps is routinely excellent, with lovely color rendition and good detail. Full HD at up to 120fps completes a comprehensive video offering. The vari-angle touchscreen makes framing a cinch, too, while the healthy Olympus lens catalogue opens up plenty of creative avenues. There's no headphone jack, which will irk some videographers, but that sought-after external microphone port is there. Sure, it's a bit expensive, but as a complete vlogging package it's tough to beat.

Sony's Alpha cameras have long been popular with vloggers, and the A6400 is no exception. 4K is a given, while support for S-log3 and S-log2 should please post-producers. There's 4K HDR (HLG) for instant playback and Sony's Imaging Edge Mobile app makes it possible to transfer video to your smartphone. Front-on framing is straightforward, too, thanks to a flip-up 16:9 touchscreen, while the A6400's advanced autofocus system serves up superb subject tracking.
Port options, though, will put some vloggers off: as with the 6300 before it, there's a microphone input but no headphone socket on the A6400. Many won't monitor audio as they record, but it's worth noting if interviews are your thing. There's no in-body image stabilization either, and many of Sony's prime lenses don't feature it – not a problem if you use a tripod or go for that handheld aesthetic.

Fujifilm's X-T200 is an attractive entry-level camera with plenty to offer for vloggers. Featuring the familiar retro styling of the X-series, the X-T200 is equipped with a 24.2MP APS-C sensor that captures uncropped 4K video at 30p by 'downsampling' from 6K footage. The results are impressively detailed and notably more dynamic than the camera's 1080p efforts. It's a slight shame that digital image stabilization only works in Full HD, but use a lens with built-in IS and you won't miss it too much.
While the X-T200 can capture 1080p footage at up to 120fps, the new HDR video mode (which combines multiple frames to enhance dynamic range) is only offered up to 60fps. Despite these small quibbles, the X-T200 is brilliant to shoot with. The 3.5-inch vari-angle touchscreen is fantastically sharp and makes framing a joy, while a 3.5mm mini stereo input and USB-C port add welcome versatility. It's a shame that subject tracking can't be used for video, but the X-T200 is a versatile and capable vlogging option all the same and one of the best at its price.

It's a shame Canon didn't make the EOS M50 Mark II a bigger update to its EOS M50 predecessor, but it remains a good 1080p video option for anyone who's starting out on their vlogging journey. The main updates it brings are Eye AF for stills and video, which works well for an entry-level model, and the option of shooting vertical video for the likes of Instagram.
The main drawback of the EOS M50 Mark II is its heavy 1.56x crop on 4K video, which it inherits from its predecessor. This crop increases to a massive 1.75x if you turn on digital image stabilization – so if shooting 4K video is your main priority, we'd recommend going for the Canon EOS M6 Mark II instead (see further down). But if you're happy with shooting 1080p video, then the M50 Mark II remains a fine option, thanks to its combination of a large 24.1MP APS-C CMOS sensor, vari-angle touchscreen, microphone input and that compact form factor.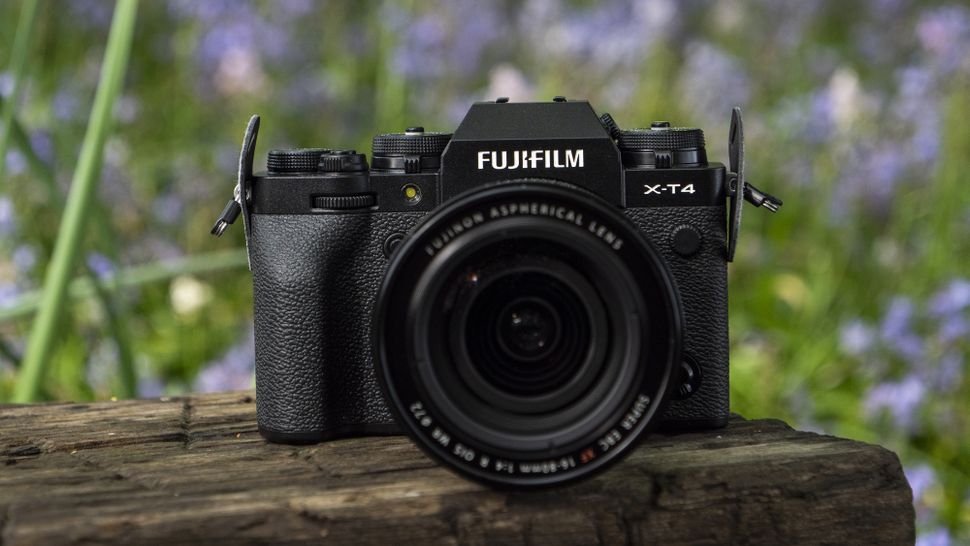 If video quality is your priority, then it's hard to beat the Fujifilm X-T4 as a vlogging all-rounder. Sure, some full-frame cameras can still edge it for dynamic range and high ISO performance, but it's not a huge gap and the X-T4 offers a smaller overall setup that's ideal for travel. One of the best hybrid shooters around, the X-T4 brings significant upgrades on the X-T3 that include in-body image stabilization (IBIS), a bigger battery and improved autofocus. The latter is quick and reliable for both stills and video, though you'll preferably want to use it with some of Fujifilm's more recent glass, like the XF16-80mm f4 R OIS, for the best results. With a microphone input, front-facing screen, weather-sealing and the ability to shoot Cinema 4K videos up to 60fps, the X-T4 is a great all-round vlogging option for those who want a camera that can take care of both their stills and video needs.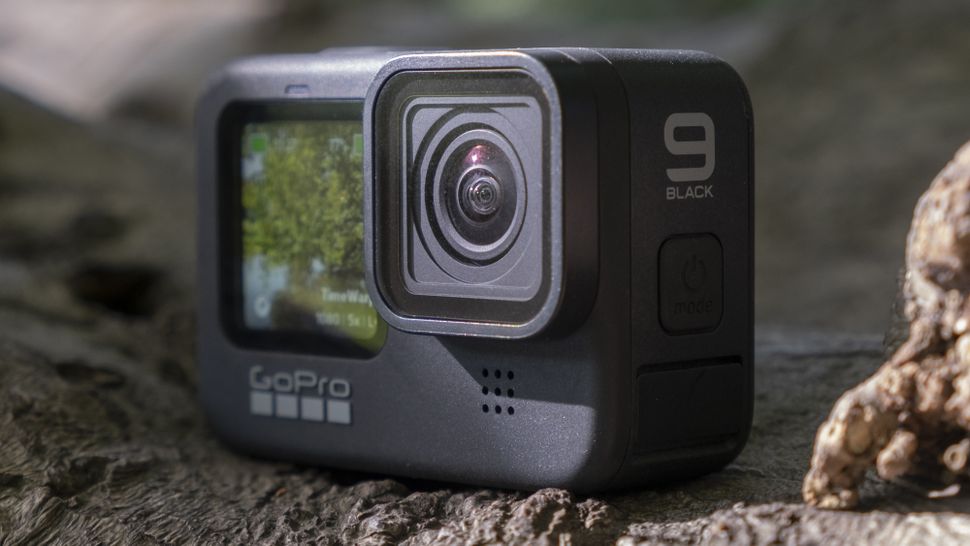 GoPro's action cameras have long been popular with vloggers. And while it might have some rough edges, the Hero 9 Black is GoPro's most powerful and versatile effort to date – even if older models offer better value.
A new 23.6MP sensor is capable of shooting 5K/30p video and, in the right conditions, can capture more detail than any GoPro so far. But the bigger news is that the most powerful HyperSmooth Boost stabilization mode can now shoot silky smooth and stable footage at all resolutions and frame-rates.
The other headline feature is the fresh front-facing color display. Though it's a little laggy, the second screen is a boon for vloggers, offering an easy way to ensure their face stays the frame. The square aspect ration means it isn't a true preview, but it's nevertheless a useful for addition for those shooting pieces to camera.
Other upgrades are less dramatic: battery life is marginally improved, while new Power Tools introduce a handful of neat software recording tricks. Wind noise is handled better, too, with enhanced voice isolation. It's not flawless – the rear touchscreen is disappointingly unresponsive – but the GoPro Hero 9 Black is the best rugged vlogging camera you can buy.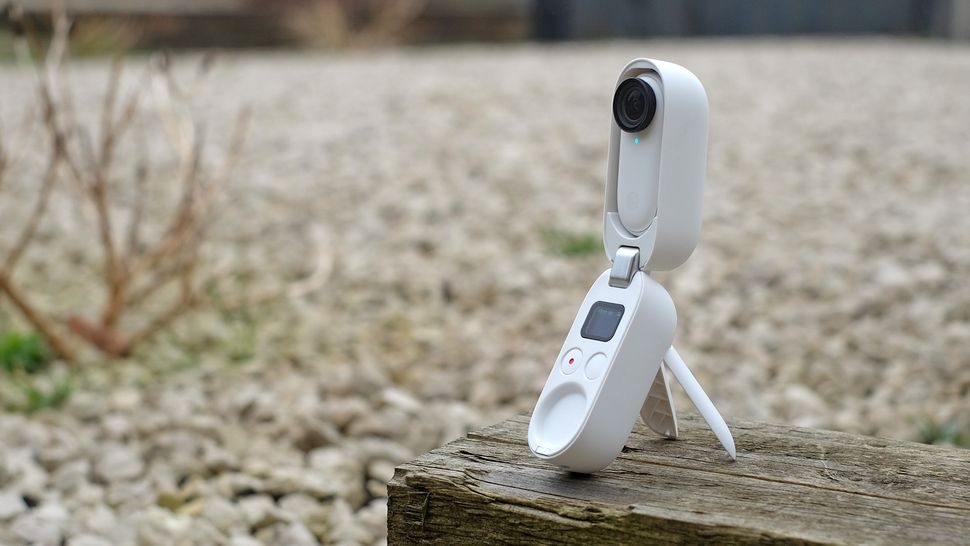 Few cameras offer the vlogging portability of the Insta360 Go 2. Hitting the scales at a mere 26.5g, the camera itself is a tiny, pared-back pebble that's capable of capturing detailed and dynamic 1440p footage at up to 50fps. Stabilization isn't up to GoPro standards, but the FlowState software does a reasonable job of mitigating walking motion, especially if you process video with your laptop rather than the Insta360 app. There's no display on the camera itself, which will be a dealbreaker for some, but the app can be used for a wireless video preview.
More useful, though, is the protective charging case: home to two buttons and an OLED readout, the controls and camera face the user when the Insta360 Go 2 is docked, making it an ideal handheld vlogging setup. The case also features fold-out legs for tripod duties and works as a remote for wireless camera control. At 30 minutes, battery life isn't the best, but with a single microphone that renders vocals with decent punch and clarity, the Insta360 Go 2 is an easy, properly pocketable option for recording quick clips and vlogs on the go.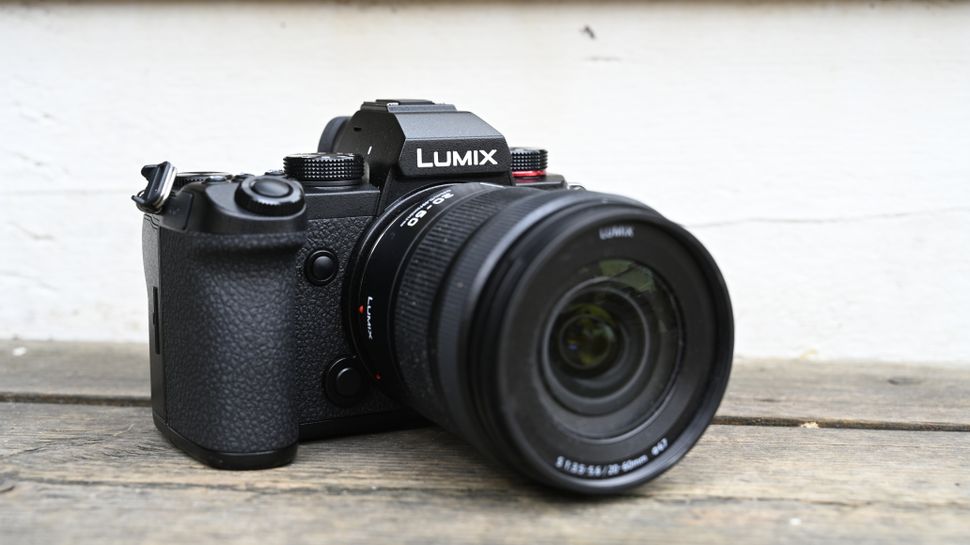 Offering full-frame performance in a Micro Four Thirds body, the Panasonic Lumix S5 is a fantastic hybrid that should appeal to a wide variety of creators.
Smaller and lighter than the GH5 yet equipped with a full-frame mirrorless sensor, the Lumix S5 sits extremely comfortably in the hand and features a comprehensive array of buttons and dials. And vloggers will welcome the arrival of a fully articulating touchscreen which can flip out to face forwards.
In fact, the S5 offers plenty to lure in video creators. It can capture 10-bit 4K internally, cropped 4K at 60p and uncropped 4K at 30p. It also supports V-Log, time-lapses, dual native ISO and anamorphic 4K. In-body image stabilization keeps things nice and smooth and, although the autofocus is still contrast-based, the AF-C setting is more than capable of following subjects while walking and talking.
The only real compromise – besides a 30-minute limit on 10-bit clips – is the inclusion of a Micro HDMI port, rather than a full-size one. And it might be worth considering a second battery if you'll be recording all day. But with Wi-Fi and Bluetooth on-board, as well as a 20-60mm kit lens that's ideal for video, the S5 should tick almost every box for vloggers.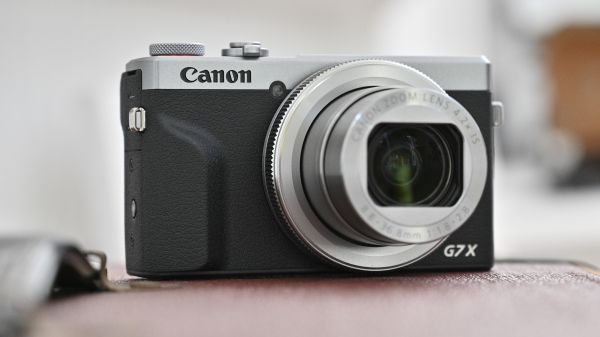 Long popular with vloggers, Canon's G7X range has kicked it up a notch with the Mark III. There's a very capable 20.1 megapixel one-inch sensor, but now it's also equipped with uncropped 4K video recording, along with something that's been requested many times – a microphone socket.
This means you can elevate the sound above and beyond the internal mic's offering, if you want to. Even better, the G7X III can stream directly to YouTube – which is, right now, an advantage over the Sony ZV-1 – so you can live vlog whatever's happening around you, without having to downgrade to using your smartphone. USB charging is another great feature which means you can give it power bursts on the go – particularly prudent if you've been shooting a lot of 4K video.
The G7X Mark III's contrast detection-only AF and more limited tilting screen mean it's been nudged down this list by the Sony ZV-1, but it's also more affordable and is still well worth considering if you need a pocket vlogging rocket.

Touted by Panasonic as "the ultimate vlogging camera", budding videographers are bound to love the G100's compact form. Built small and light for portability, it's the world's smallest camera with an articulating touchscreen. And despite its size, the G100 is also packed with video-focused features.
As you'd expect, there's 4K/30p video recording – albeit with a crop that limits its use as self-recording tool – as well as an arsenal of useful social media tools, including a video selfie mode, a sharing frame marker and a dedicated button for transferring footage to your smartphone.
Most significant, though, is the new audio system: a first on a mirrorless camera, Ozo Audio by Nokia uses three microphones to pick up sound wherever it's coming from – including from behind – and it does an excellent job of prioritizing audio, even in noisy situations.
The 20.3MP sensor produces vibrant, detailed footage in most conditions, struggling only in low light. And, while image stabilization isn't as smooth as you'd get with a gimbal, the five-axis hybrid system is still suitable for everyday recording. Add a real-world battery life of 40-45 minutes video shooting and you've got an attractive vlogging option.

Canon really is the king of vlogging cameras, with several making our list thanks to a fantastic range of features and options. The Canon EOS Mark II is the latest iteration of its M series of compact system cameras, and is small and light enough to be a great travel companion.
However, in its miniature body, it's housing the same high-resolution 32.5 megapixel sensor as the 90D DSLR (see below). With Dual Pixel CMOS AF and uncropped 4K video recording, it's one you could use to kick your vlogs up a gear. There's also a microphone input socket, plus a screen that faces all the way forward for perfect framing.

Alternatively…
If you don't want to invest in a dedicated camera for your vlogging, but you still want to take your footage up a notch, the DJI OM 4 is a great alternative option.
It uses a 3-axis gimbal to create smooth footage straight from your existing phone, simply by attaching it to the gimbal via magnets.
Other benefits include the ability to fold down the gimbal for easier transportation, quick release to allow you to use your phone for other things – such as making calls – without having to faff around too much with the set up.
It fits around most phones, including large models such as the Samsung Galaxy Note 20 Ultra, but it can struggle with thicker cases.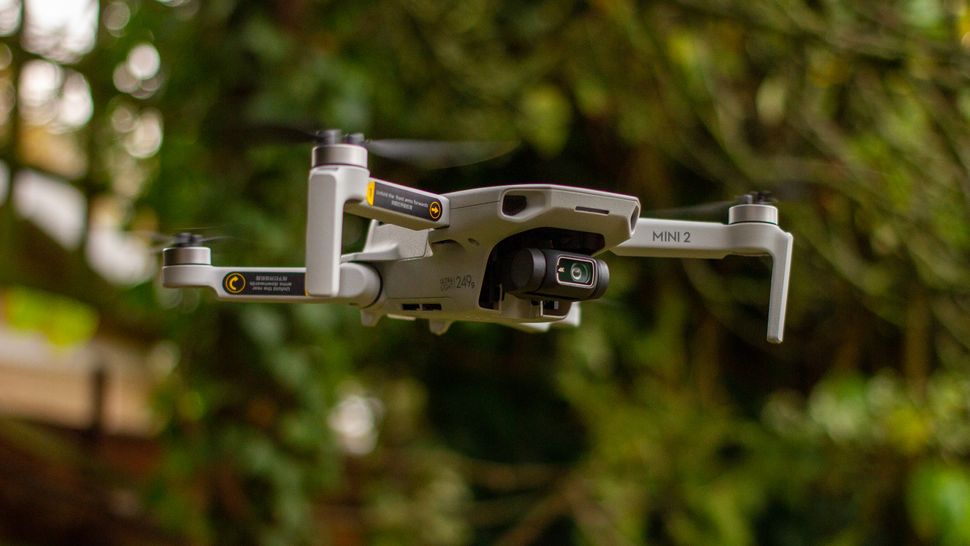 Sometimes, an aerial shot or cut-scene can really elevate your vlogs from fairly traditional videos to something a little more visually exciting. It's by no means essential for those starting out, but for more experienced shooters a travel drone can be a very handy ally – and our favorite for beginners is the tiny DJI Mini 2.
Despite being small enough to slip into a jacket pocket, this drone can shoot super-smooth 4K/30p footage and has a decent flight time of around 30 minutes. A word of warning: the Mini 2 doesn't have subject-tracking, so if you're looking for something that will, for example, automatically follow you as ride your bike, then you'll likely be better off with a drone like the DJI Air 2S (or the original DJI Mavic Mini combined with the third-party Litchi app).
But otherwise, the DJI Mini 2 is a brilliant little sidekick for your main vlogging camera – and won't take up too much more room in your backpack than an extra lens.

The recent arrival of the Panasonic G100 (see above) has pushed the G95/G90 down our vlogging camera pecking order a little, but it's a very different camera that will remain on sale and brings several advantages.
While it's much larger than the G100, this does mean it has room to pack in sensor-based stabilization, making it a better option for walkaround videos. The G95 / G90 also inherits the flagship Panasonic G9's sensor, and squeezes in an impressive array of video-friendly features, including microphone and headphone sockets for perfect sound.
There are tonnes of lenses available for the Micro Four Thirds system, so there's something for every job, while the 14-140mm f/3.5-5.6 lens which you can buy it with as part of a kit as a great all-rounder for lots of different shooting scenarios. A fully-articulating touchscreen is ideal for presenting to camera, while there's also advanced video features such as 4K shooting and V-Log recording, too. Keep an eye on the G95/G90's prices, because it could become something of a bargain.


What video quality should you be looking for?
Whatever type of camera you go for, considering video quality will likely be top of your list. At the absolute minimum you'll be looking to shoot in Full HD (1080p), while 4K is becoming increasingly common. Although the higher resolution format will take up more space on your hard drive, it should future-proof your captures a little more than Full HD.
Other specifications to pay attention to include built-in WiFi for sharing your vlogs on the move, a fully articulating or tilting monitor for helping to frame your face, a built-in microphone socket for enhancing sound quality.
We've picked out eight top cameras of various shapes, sizes and attributes to suit different styles of vlogging – as well as highlighting some that will fit into your all-round stills and video shooting requirements.